---
FED UP OF CLEANING CAT LITTER? DON'T WORRY, WE HAVE A SOLUTION!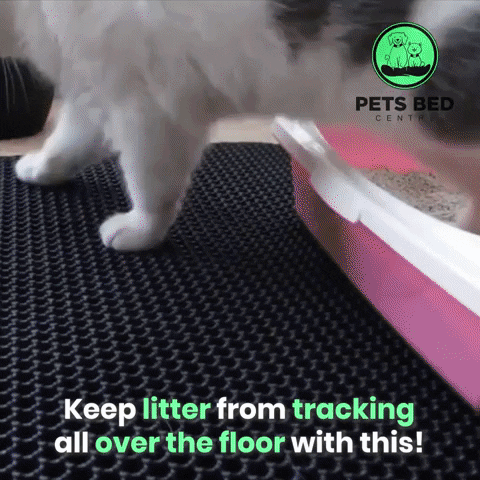 😻 Practical Design - place your Cat Litter Mat next to your litter tray and let it do its thing. Its super soft surface with holes will shake off litter from your cat paws which will neatly collect in envelope below. 
😻 Water Proof - our cat litter mat has two layers and is water proof to keep area nice and dry. 
😻 Super easy to clean - place it under running water, vacuum clean it or simply just shake it off in your bin and its good to go again. 
😻 Gentle on your cat's paws - our cat litter mat is kind on your cat's paws which encourages cats to walk on it so waste can be collected tirelessly.
😻 NON-TOXIC material - main surface is made from Non-Toxic EVA rubber foam and bottom layer is fabric so it's easy to carry and has a stable base.



Top tip:
We recommend you choose the biggest size possible for your cat litter mat to cover maximum space around litter box. This will ensure that cat litter mat can catch as much litter as possible to keep area clean. Please refer to our 'size guide' below for more information.
SIZE GUIDE
| | | |
| --- | --- | --- |
| SIZE | Dimensions in Inches (approx) |  Dimensions in CM |
| Small | 11.81X17.71 Inches | 30X45 CM |
| Medium | 15.74X19.68 Inches | 40X50 CM |
| Large | 18.11X23.62 Inches | 46X60 CM |
| Large Foldable | 18.11X23.62 Inches | 46X60 CM |
| XL Foldable | 21.65X27.55 Inches | 55X70 CM |

Happy with my purchase
I have 2 cats that always seem to have litter scattered everywhere. Since my purchased there is hardly any little around! I just remove the mat from under the pan & shake the litter back inside the pan. Easy-peasy!
Less work for Mother
awesome mat. I have wooden floors and every morning and evening I would be stepping on litter which is so annoying. I had to sweep the floors everyday.
Since I have used the mat no more sweeping and stepping. It's a miracle. Thanks for making my life easier.
Marylou Crupi
Pet mat
The mat works great but size is deceptive. The large is like a small and should offer bigger sizes.
Pet litter mat
We are extremely pleased with our cat litter mat. It catches most of the litter and we no longer have litter tracks throughout the house.
Was skeptical at first but bought it any way on the recommendation of a friend. It works great!