---
FED UP OF CLEANING CAT LITTER? 😩 DON'T WORRY,  WE HAVE A PERFECT SOLUTION!💡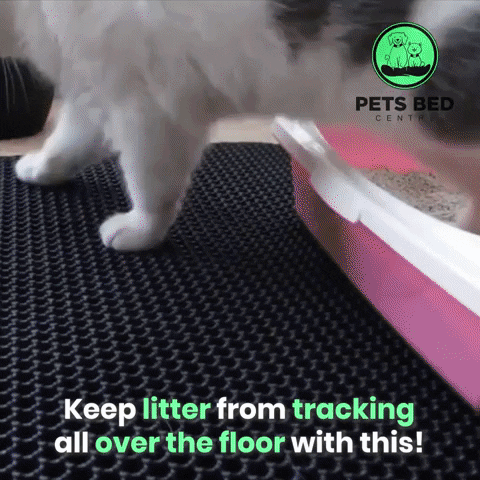 Practical Design:
Place your Cat Litter Mat next to your litter tray and let it do its thing. Its super soft surface with holes will shake off litter from your cat paws which will neatly collect in envelope below. 

Water Proof:
Our cat litter mat has two layers and is water proof to keep area around your litter box nice and dry. 
Super easy to clean:
When needs cleaning simply place it under running water, vacuum clean it or just shake it off in your bin and its good to go again. 
Gentle on your cat's paws:
TrackFree cat litter mat is kind on your cat's paws which encourages cats to walk on it so waste can be collected tirelessly.
NON-TOXIC material:
Main surface is made from Non-Toxic EVA rubber foam and bottom layer is fabric so it's easy to carry and has a stable base.



Top tip:
We recommend you choose the biggest size possible for your cat litter mat to cover maximum space around litter box. This will ensure that cat litter mat can catch as much litter as possible to keep area clean. Please refer to our 'size guide' below for more information.
SIZE GUIDE
| | | |
| --- | --- | --- |
| SIZE | Dimensions in Inches (approx) |  Dimensions in CM |
| Small | 11.81X17.71 Inches | 30X45 CM |
| Medium | 15.74X19.68 Inches | 40X50 CM |
| Large | 18.11X23.62 Inches | 46X60 CM |
| Large Foldable | 18.11X23.62 Inches | 46X60 CM |
| XL Foldable | 21.65X27.55 Inches | 55X70 CM |

If you can get your kitties to step on it.
Works great ....cleans up great. Just working on the cats not wanting to step on it. We moved it from right in front of the litter box to the exit doorway out of the bathroom.
We'll see how that works.
Does what it says
I love this mat, it's nice and soft and no more litre on the floor
Glad I found it
This is a great mat, I'm glad I found it.
An Excellent Product
These mats (we've now bought a second one to use with the other litter box) are exactly what we needed. They are lightweight, durable and (most importantly) really easy to clean. I just shake the mat over the litter box to dislodge whatever pieces of litter the mat has picked up.
Works great!
Works as advertised. My old tabby cat rarely keeps all her business in litter box. This is much easier to cleanup and less litter is tracked out. She stills throws some to side of this mat so I wish it was bigger.